18.08.2022
Pork with Apples and Leeks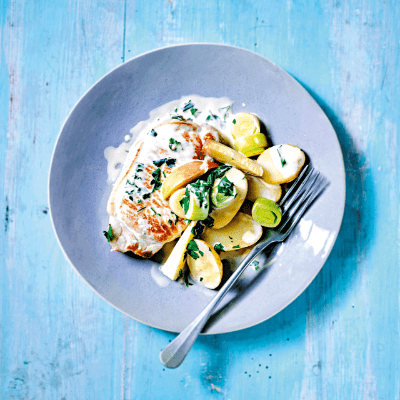 A warming Autumnal recipe based around our Autumn 2022 flyer
Ingredients
2 pork loin steaks, trimmed
1 tbsp oil
250g new potatoes, sliced
1 leek, cut into 1cm slices
300ml chicken stock
1 Braeburn apple, cored and sliced
100g soft cheese
fresh parsley, chopped
Method
Step 1. Heat the oil in a large frying pan and fry the pork for 2-3 minutes, turning one to brown.
Step 2. Add the potatoes and leeks and cook for a further 2-3 minutes.
Step 3. Stir in the stock, cover and simmer for 5 minutes
Step 4. Add the apple and cook for a further 5 minutes or until the pork is cooked through.
Step 5. Stir in the soft cheese and parsley, season and cook for 1 minute before serving.
Recipe credit to 'Waitrose', original recipe can be found here 
Back to Recipes